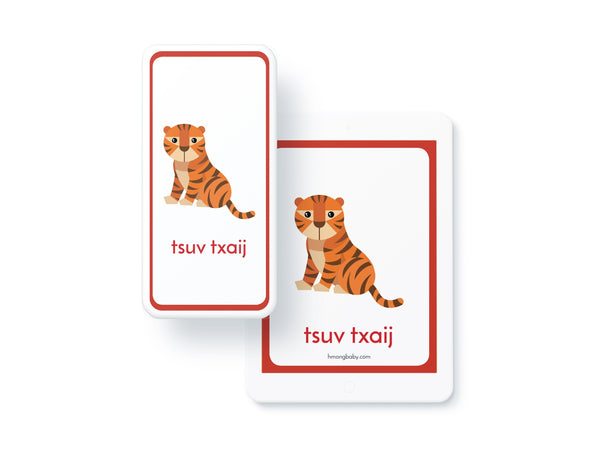 Digital Animal Flashcards
Available in White Hmong and Green Hmong.
IMPORTANT: This product is exactly like the physical version, but it's digital so it can be accessed as an "app" on your tablets and smart phones wherever you are! 
There's something magical about the way kids connect with animals. This natural curiosity and love for animals will make it extremely fun for you to teach them their animals in Hmong with this Animal Flashcard set - digital version!
With these digital flashcards, you can print your own copies of the flashcards OR you can view it on a tablet and use it as digital flashcards!
What Customers are Saying:
"Just got my flashcards! My kids are already loving them and were immediately engaged in conversation!" - Lisa K.
DETAILS
This product is BOTH a PDF and a web app that can exist on your mobile device.
Once you checkout, you'll receive an email where you can download the PDF instantaneously.
To access your flashcards as an "app" on your mobile device, click on the link on the first page of your PDF.
The left side of each page contains a cute and simple picture with the Hmong word underneath. The right side of each page contains the word in Hmong and 3 questions to help you start a simple conversation in Hmong with your child. It also includes the word in English.
NOTE: This product is for personal use only. Commercial use is prohibited. Digital products are non-refundable.